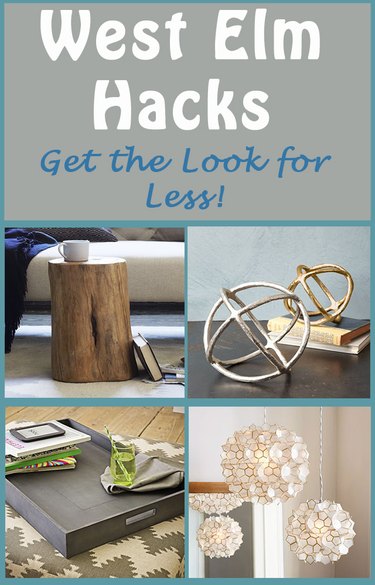 West Elm has some really great decor, but instead of splurging on a simple piece, save your dollars and DIY your own. Not only will it save you lots of money, but these hacks are so creative they'll give you bragging rights and some sweet decor.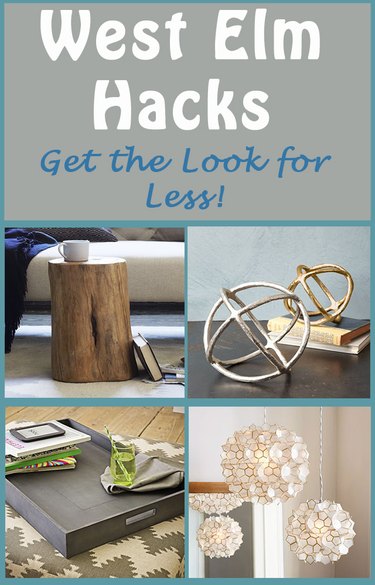 Video of the Day
Use Wooden Dowels to Make a Mid-Century Masterpiece
This minimalist plant stand is easy to make and can be done with no prior woodworking knowledge.
Instructions here.
Turn a Tree Log Into a Chic Side Table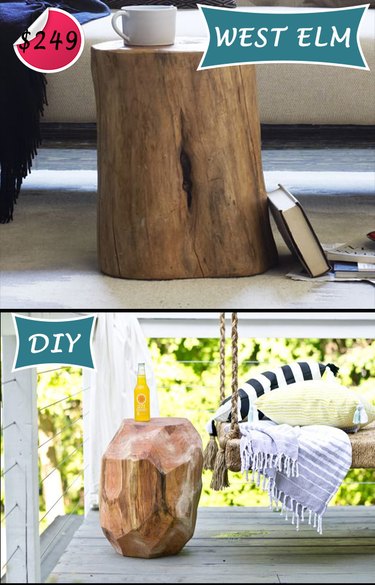 Using a free-form pattern, like this faceted geometric shape, takes the worries away, because it doesn't require any precision or symmetry.
Directions here.
Add Chalkboard Paint to Old Flower Pots for a Trendy Look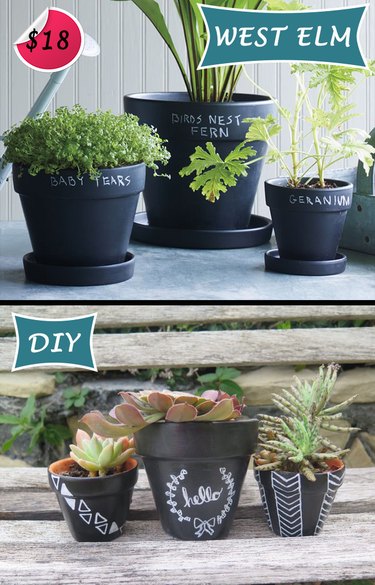 Do you have some old terra-cotta pots that are just begging for a makeover? Grab some chalkboard paint and start crafting!
Instructions here.
Make a Cozy Floor Pouf Out of a Canvas Drop Cloth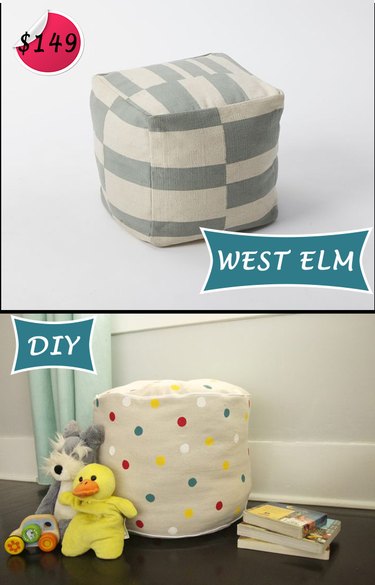 This simple DIY is customizable to every kind of home decor.
Learn how here.
Use Old Mason Jars to Make Hanging Pendant Lights
Save yourself some dollars and turn old Mason jars into a functional lighting solution.
Tutorial here.
Make Modern, Natural Planters From Scratch
Mix concrete to recreate these modern stone planters at a fraction of the price.
Read how here.
Turn Picture Frames Into Floating Cubic Shelves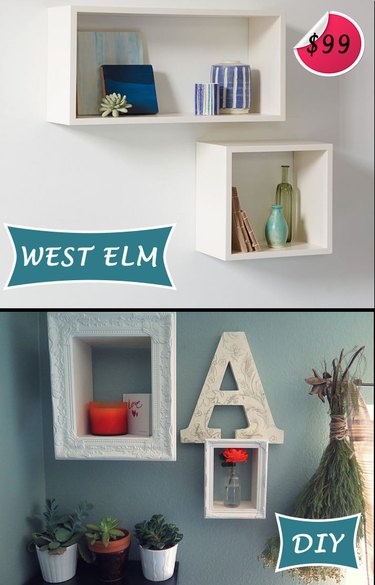 Instead of splurging on floating shelves, use dollar-store frames for the same look.
Get the tutorial here.
Upcycle Plastic Bottles Into Modern Garden Planters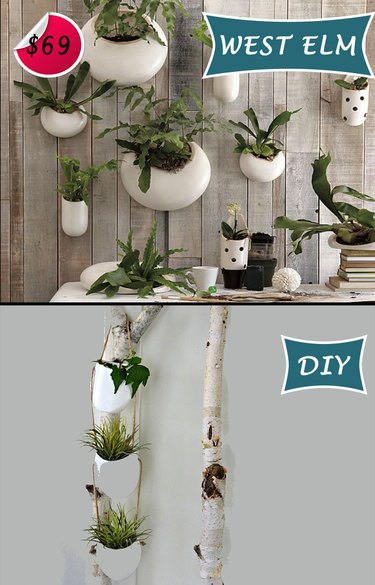 This project is simple to make and good for the environment. Instead of throwing away plastic bottles, turn them into something beautiful you can be proud of.
Instructions here.
Use Pipes to Make an Industrial-Style Bookshelf
Pick up some plumbing pipe from your local hardware store and you can make a modern shelving unit that can be customized to fit any space.
Read how here.
Turn a Wood Board Into a Decorative Tray
This versatile tray can be used as a decorative piece, a functional lap tray for your laptop or as an added aesthetic to breakfast in bed.
Directions here.
Make a Chandelier Out of Kitchen Supplies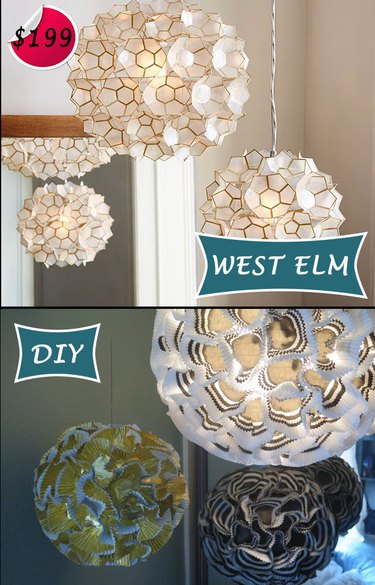 With some cupcake liners and hot glue, you can craft yourself a chandelier that looks straight out of a magazine.
Instructions here.
Craft a Wooden Table From Scratch
Making a wooden table is easier than you think!
Tutorial here.
Use Vinyl Tubing to Make Decorative Spheres
Instead of spending $100 for your home's new accent piece, craft something special out of old vinyl.
Learn how here.
DIY Your Own Padded Headboard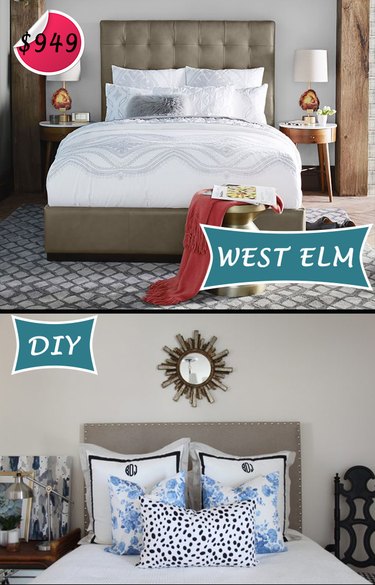 Add personality and character to your room without breaking the bank.
Read how here.
Make a Tufted Ottoman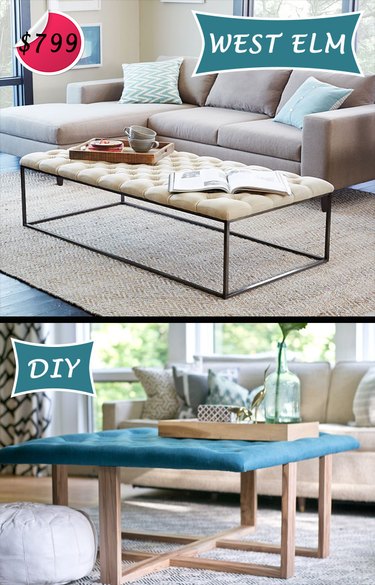 Instead of spending tons of money on a squishy ottoman, make your own and customize it to match your home decor and personal style.
Use the Papier-Mache Method and Craft a Chandelier
Papier-mache is easy (and cheap!) to prepare and can be used to make unique pieces that compliment any room.
Make a Stylish Rug From a Canvas Drop Cloth
Adding an area rug to a space can be a pricey way to add character to a room, unless you know how to upcycle, that is! Use a drop cloth and decorate with a chic design for the perfect (and budget-friendly!) decor.
Featured West Elm Products:
Mid-Century Turned Leg Planters
Natural Tree Stump Side Table
Chalkboard Planters
Offset Stripe Mini Pouf
Gridded Glass Pendant
Ridged Stone Planters
Basic Cube Shelving
Shane Powers Ceramic Wall Planters
Pipe Bookcase
Metal-Wrapped Wood Tray
Capiz Flower Pendant
Expandable Dining Table
Sculptural Spheres
Tufted Headboard
Tufted Ottoman
Papier-Mache Bead Chandelier
Souk Wool Rug